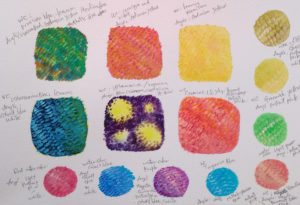 Here is a color sample with Acrylic and Water color for the next project.
It helps me to choose medium and colors♪
アクリルと水彩を使った色チャートです。
これからのプロジェクト用で、イラストを描く時色とメディウムを選ぶのに使います。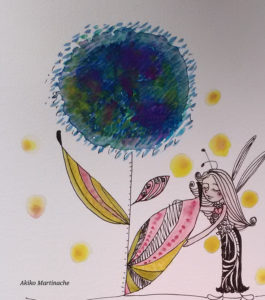 The first test in an illustration.
In the flower part : Water color : Ultramarine Blue and Lemon yellow/ Acrylic : White and Pathalocyanine Blue
最初のイラストでテスト。
お花の部分には水彩でウルトラマリンとレモンイエロー,アクリル絵の具にチタ二アムホワイトとパサロブルー。
Ok, now, a test with a little bigger illustration?
Water color: Ultramarine blue, Violet, Prussian Blue, and Lemon Yellow
Acrylic : Ultramarine blue, White, Pathalocyanine Blue, Cardimium yellow, Quinacridone Magenta
もう少し大きめのイラストでもテストしてみようかな?
水彩:ウルトラマリンブルー、ヴィオレット、プルジアンブルー、レモンイエロー
アクリル:ウルトラマリンブルー、チタニアムホワイト、パサロブルー、カーディミアムイェロー、キナクリドンマジェンタ(紫)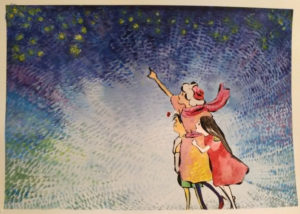 More test of this style continues♪
テストイラスト、まだまだ続きます♪